/fileadmin/Blog/2020/Blog-Digitale-BANF-EN.jpg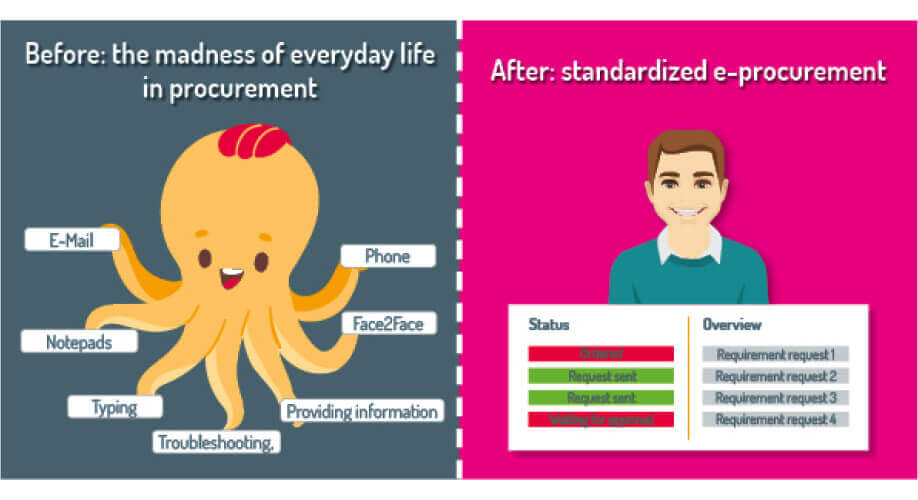 E-Procurement
&nbsp
Electronic Purchase Requisitions Standardize Procurement
Digital Purchase Requisitions: Electronic Purchase Requisitions Standardize Procurement
Table of contents:
Max works in the operational purchasing department of a large industrial corporation. Every day, he juggles with highly diverse entry channels for purchase requisitions. He himself would probably rather describe it as "whirling". While he is checking his 30 unread e-mails and a new purchase requisition, a coworker is standing at his desk holding out a printed purchase requisition form to him. She also has some additional information which Max quickly jots down on a notepad.
Another coworker is calling to notify him of some other requisition and would like to know whether his purchase requisitions from last week have already been processed. Unfortunately, somebody else is responsible for these requisitions but in sick leave for the rest of the week making it impossible for Max to provide the desired information.
The phone is ringing again: an emergency in production, a machine is standing still and the spare part, which is usually always in stock, is under repair. Now it is time to act quickly because every downtime can be expensive for the company. After countless phone calls, it is guaranteed that a spare part will be delivered and deployed today. Saved by the bell this time but things do not always work out that way.

The madness of everyday life in procurement
Max continues with the entry of purchase requisitions in SAP. Every day, he is busy keeping an eye on all incoming requisitions and manually checking and typing the data. Max hardly has any time for appointments with new suppliers or the comparison of prices from different suppliers. It is all about checking and processing the purchase requisitions as quickly as possible. Due to paper, e-mails, phone calls and notepads, these activities keep Max busy at all times.
Max is symbolic for many purchasers who have to deal with such or similar scenarios on a daily basis. This is where digital solutions can help to standardize entry channels in procurement and bring some transparency and speed into the procurement process – even for requisitioners.

E-procurement saves time and money: in theory and practice
In theory, the benefits of IT-supported procurement systems are beyond question. Studies have demonstrated that in the purchase-to-pay process alone, an electronically supported purchase requisition, its verification and approval is three times faster and costs four times less than one without digital process support.
As a consequence of this, the question arises why electronic solutions have not yet been able to gain acceptance in practice. Answers to this question are provided by this year's BME survey of the Barometer E-Procurement 2020 on the status of digitization and developments in selected areas of procurement and supply chain management. The BME is the Association for Supply Chain Management, Procurement and Logistics in Germany and Central Europe and according to its study, one of the main reasons is probably the fact that
→ in every fourth company, the management prevents this important issue.
This is not really comprehensible because many companies have already proven how quickly the use of a digital solution in SAP for the procurement process pays off. The purchasing department at Craemer Group ─ a global specialist with the core businesses of metal forming, plastics processing and tool making ─ was delighted when the IT department presented a solution for daily challenges.
And procurement would not be procurement if the cost-performance ratio had not also been examined carefully as Malte Aussieker, purchaser at Craemer, recounts: "It was very important to us to acquire software that creates added value and is not simply a new cost object. We finally realized that in our business the old-fashioned – in other words – the paper-based model is a real time waster. With the solution AFI Purchase, we have taken the procurement process to a new digital level and are now benefiting from enormous time savings."
At present, the purchasing department at Craemer's main factory processes approximately 500 requisitions per month. There is now a standardized purchase requisition which finds its way centrally via the new system to the purchasing department.
"A tool that consolidates the purchase requisitions in one entry channel is worth its weight in gold for us. I can see my current requisitions at a glance and can conveniently process them directly in SAP but there is more to it than that – I can get an overview in the AFI Monitor with just a few clicks, for example, during vacation replacements or when my coworkers are not in the office. The Monitor provides information on what is outstanding, what is ordered and what is taken care of. This is a major simplification in my daily work. The days of complicated handovers and a lot of paper printouts are over", says Malte Aussieker.

Read More about the Benefits of Digital Working in the Success Story with Craemer

Digital processes of purchase requisitions also help the requisitioner
Digital capturing of purchase requisitions also provides plenty of benefits for requisitioners. By integrating external catalogues or procurement platforms, employees can conveniently assemble their shopping cart online: the system used for electronic capture takes over the data and transfers it to the predefined process. This also prevents procurement bypassing the purchasing department which is known as maverick buying.
On top of this, every requisitioner can easily track the status of his or her requirements and, in the best case, also see when the goods were delivered. Electronic workflows guide securely through approval processes and allow for location-independent testing. Everything is documented and can be traced quickly and easily.
Especially in unexpected economic crises, flexibility and transparency can be crucial.

Avoiding hurdles on the way to electronic procurement
So why do many decision-makers still shy away from taking the step into digital processes? Another answer to this question is provided by the aforementioned BME study in which one in four of the companies surveyed also expressed internal resistance: the main problem is probably the lack of transparency and structure of data. This problem cannot really be dismissed. It is advisable to clean house before purchasing new products. This will ensure that there are no unexpected obstacles that can often unnecessarily draw out projects.
As a result, the introduction of an electronic procurement solution for SAP can completely change the everyday work of the purchasers in a positive sense as Malte Aussieker also emphasizes: "We have never written orders as quickly as we do now with the new solution. Today we work much faster than before – that is simply a fact and no comparison to the past."
This certainly does not happen automatically. The better way to a smart solution for purchase requisitions is to be well prepared within a company. Only then can it be ensured that the solution will bring the desired benefit in practice. Gira, leading full-range supplier for intelligent system solutions for electrotechnical and networked digital building control, has arranged enough time for project preparation as Hans-Jürgen Tiroux, strategic purchaser at Gira, explains: "It was important to us to clearly work out the target states. That way we knew which functions, workflows, forms or internal order numbers from SAP had to be integrated in order to work smoothly. Practice shows that the detailed preparation paid off."
Gira has encouraged networking in purchasing and benefits considerably from the electronic solution in procurement: "Above all, transparency and time savings are clearly noticeable benefits", confirms Mr Tiroux.

For Those Who Want to Delve Deeper, the Current Success Story with Gira Is Worth a Read

The purchasing department is an important interface within the company which has significant influence on whether the economic wheel keeps turning. Even if there are comprehensible challenges, suppliers of electronic solutions for SAP with expertise and experience are the best partners for the implementation and can provide support and advice.
Because the future belongs to e-procurement, and not only in theory. Transparency, standardization, time savings and decentralized processing are just a few of the arguments from practice.

Switch to Digital Requisitions Now!
Gain sufficient resources in strategic purchasing through efficient processes in the operative area.