/fileadmin/Blog/2020/Blog-Procurement-4-point0.jpg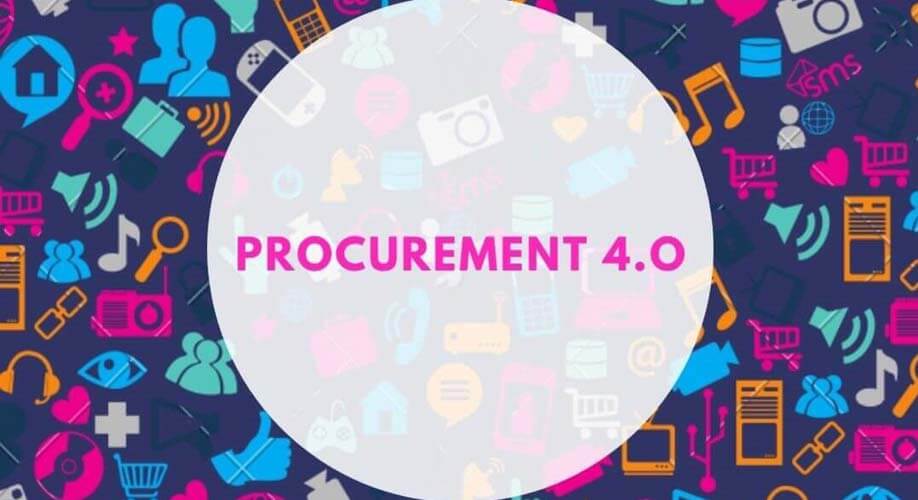 E-Procurement
&nbsp
Procurement 4.0 and Its Benefits
Procurement 4.0 and Its Benefits: to Be or Not to Be
Table of contents:

In the course of the fourth industrial revolution, high expectations were placed on procurement and the associated term »Procurement 4.0«. It is beyond debate that the conditions in procurement are changing because the economic requirements have been changing for a long time. It should be added that decentralized processing of transactions is simply a risk factor nowadays.

Substantial disadvantages may arise in the case of unexpected events - such as the current Corona crisis. In contrast, central, digital processing ensures that business processes run smoothly even in times of crisis. In a general sense, flexibility, transparency and efficiency should be part of the basic equipment of a competitive company – and this is exactly what the benefits of Procurement 4.0 are aimed at.

The purchasing department should do what it does best: buy at the most attractive price!
The purchasing department should take care of the company's supply in economic terms. In the sense of strategic procurement management, it is important to pay attention to optimal prices and to maintain or establish relationships with the best suppliers. If this happens with the support of digital applications, it is called e-procurement.
One of the reasons for highlighting procurement within Industry 4.0 is that this is where the most interfaces within and outside of a company exist. Data that is processed in procurement has an impact on many other areas of the company: for example, a quickly entered and processed order confirmation not only speeds up the procurement process but also ensures smoother and faster processing of incoming invoices.
This applies to procurement as well as all other areas: paper is sluggish and should be digitized. Laborious comparing and manual maintaining of data from different systems is like driving with the parking brake on: it is simply impossible to gain ground. In addition, paper is like sand in the gears when it comes to precious time for core tasks which serve the competitiveness of the entire company.
For this reason, procurement management in Procurement 4.0 is completely digitized because digital data is the basis for further process optimization.

Autonomous processes are the gold of the future
Digitization alone is only the basis on which Procurement 4.0 can develop its full potential. The real accelerator of efficiency is process automation which requires electronic data. Operational tasks, in particular, can be supported immensely by autonomous processes.
Take, for example, a large manufacturer of industrial plants who has ordered an important purchased component from one of its suppliers but whose delivery is delayed. In the worst case, this delay entails the risk that the plant manufacturer may not be able to supply its own customer on time and has to pay a contractual penalty.
For this reason, a transparent ordering and delivery process in procurement is essential for the smooth supply of the organization. If this process runs digitally and is visualized by transparent SAP add-ons, such discrepancies can immediately be seen and the purchasing department can react quickly. The benefits include faster processing times, higher process reliability, cost reduction as well as a faster response time.

Roadmap procurement 4.0: optimization of procurement processes
Process optimization comes before digitization. The aim should be the automation of as many sub steps as possible within the procurement process – i.e. without manual intervention. Standardized processes are the best solution for this because they are measurable and repeatable and can therefore be easily automated.
Another game changer is the cross-divisional data availability in real-time as it increases the speed with which purchasers can react to market changes. The more consistent the flow of information through the optimal networking of players along the supply chain, the higher the added value.
Speaking of networking: integrated systems replace decentralized management so that the purchasing department, suppliers and specialist departments are optimally connected for seamless information supply chains.

Conclusions: litmus test – how far are you in terms of procurement 4.0?
These days, there are many technical options to digitize documents and tasks in procurement to a large extent. Media disruptions are a relic of bygone times. With the use of digital solutions, Procurement 4.0 is not only a mandatory program but (correctly implemented) also the remedy for many pain points in daily work.

Benefits of procurement 4.0
Location-Independent Data Access: full flexibility and traceability, even if employees are prevented and have to be substituted or if they are working from home.
Central Data and Process Transparency: simple support, redeployment and substitution as the traceability of the work status and the work steps is provided transparently.
Automated Information Flows: consistently standardized processes ensure automatic information flows which in turn also leads to …
… Low Process Costs
Global Networking and Integration of Suppliers: simple communication and use of global offers.
Documentation of Communication and Process Flow: this ensures the security and traceability of processes.
Better Purchase Prices and Higher Savings: more time for seeking and maintaining new or existing supplier relationships.
Reduction of Manual Tasks to a Minimum
High Data Quality through Fewer Errors: elimination of manual tasks has been proven to improve data quality.
Option to Integrate Self-Learning Systems: the use of artificial intelligence additionally increases the optimization of data quality and thus process flows.
This is not a vision of the future but already common practice in many companies. Digital data offers new potential that often cannot be developed in traditional structures. Procurement 4.0 shines a light on both the prerequisites and the benefits of digital transformation in procurement.
The question is therefore: How do you want to work in the future?
Procurement 4.0
Electronic order confirmations and why there is no way around them: Learn all about the advantages and methods of electronic processing of incoming order confirmations in SAP.