/fileadmin/Blog/2020/Blog-AB-als-Qualitreiber-Benefits-EN.jpg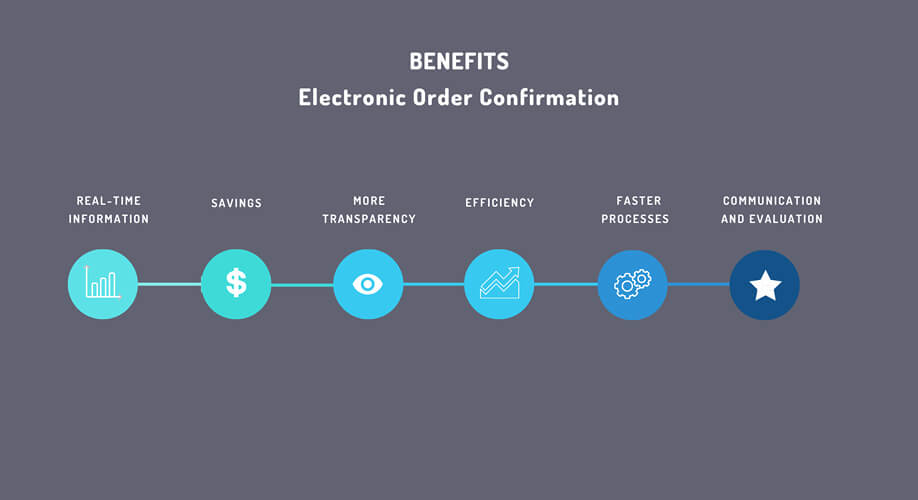 E-Procurement
&nbsp
Electronic Order Confirmation as Quality Driver in SAP
Electronic Order Confirmation as Quality Driver in SAP
Table of contents:

The purchasing department plays an important strategic part in companies to guarantee competitiveness. Therefore, this department should not be busy comparing and typing out data. Electronic, automated purchasing processes facilitate the core tasks: they enable companies to react faster and more flexibly to the changing requirements of the digital world.
The digitization of incoming order confirmations plays a crucial role within the purchase-to-pay process: on the one hand, it increases the data quality in the entire ordering process right up to the invoice and, on the other hand, ensures transparency and speed in the follow-up processes.

Why is the order confirmation in SAP of importance?
The order confirmation adjusts the ordering process in SAP in case of deviations and thus subsequently simplifies and accelerates invoice processing. This not only eliminates sources of error during the ordering process but also those of the downstream processes and increases their potential for automation.
There are still many media disruptions in procurement due to manual processes which are costly and have a negative impact on data quality, processing time and transparency. For example, it is often the case that incoming order confirmations are printed out in order to compare them better to the SAP purchasing document. Necessary changes in case of deviations are then entered manually into the SAP system.
This process takes time and, above all, lacks transparency: Which purchasing document is affected by the change? Where are the delays and how might they affect the resources and liquidity of the company itself?
Every purchasing department needs real-time data on the purchasing documents – including all deviations from prices, dates, quantities or Incoterms. This allows buyers to react immediately if, for example, the material ordered cannot be delivered in time. Delays in company processes can thus be avoided.
Possible risks if there are no order confirmations:
Supplier had an increase in price
Supplier changes the conditions of purchase and the shipping terms
Supplier cannot deliver the material ordered
Supplier cannot deliver at the desired time (just in time)
Supplier delivers a wrong product
Supplier delivers to the wrong location
Digital order confirmations are faster and more favorable
Digital processes are faster than manual processes. This is shown by various studies, including a study conducted in the DACH countries (Germany (D), Austria (A), Switzerland (CH)) by the Leipzig University of Applied Sciences. This study shows that an order confirmation that is mostly supported electronically is three times faster than a process that is uniform throughout the company but handled manually. First and foremost, the manual comparison between order and order confirmation costs valuable time!
Experience from various customer surveys has shown that typing out the order confirmation takes about 5 to 10 minutes, the mere checking at least 3 minutes. The costs per order confirmation are almost four times as high at 1.01 euros for digital processing compared to 3.74 euros for manual processing!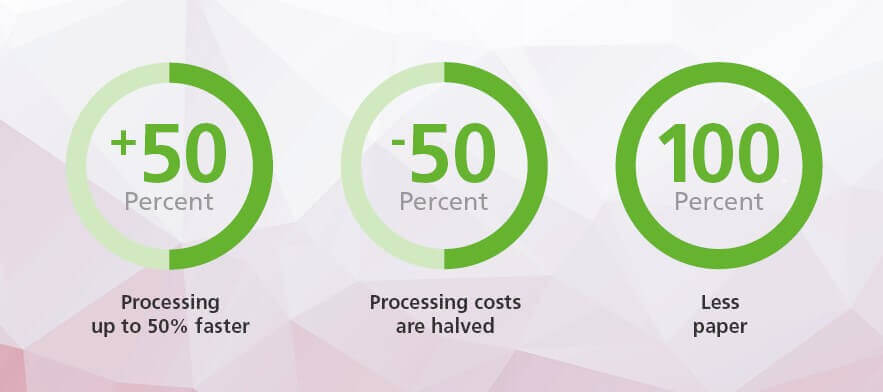 How does the electronic order confirmation in SAP work?
Companies need an additional solution for digital order confirmations in SAP, such as our SAP add-on AFI Confirmation for the SAP S/4HANA world or for SAP ERP.
Before getting started, the incoming data of the order confirmation needs to be read out correctly of course and this is best done centrally. Order confirmations reach the organizations via different entry channels and often at different locations: electronically via EDI, by fax, as PDF by e-mail or by regular mail.
It is important that the SAP add-on solution used can cover all possible arrival scenarios for incoming order confirmations in order to make the data available centrally and digitally for further processing.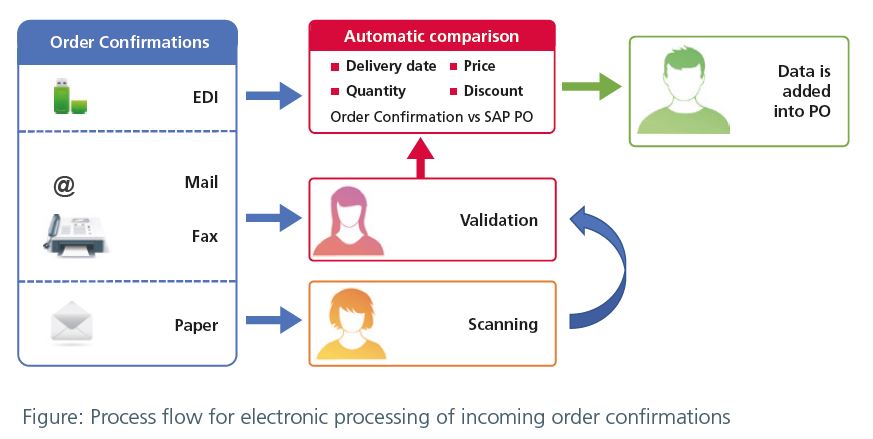 Comparison of digital order confirmations and purchasing documents in one interface
For the purpose of monitoring, it must also be possible to compare order confirmations and purchasing documents (e.g. purchase orders, delivery schedules, framework agreements etc.) digitally in one interface. Variations should be automatically highlighted visually. This facilitates validation in the event of discrepancies.
During digital processing, the software links the order confirmation directly to the purchasing document in SAP. The direct jump from the solution to the most important SAP transactions (e.g. info record, MD04, material master or purchasing document) makes it easy to compare the order data items with the order confirmation.
This function is a must in order to simplify processing. Our customers frequently confirm the measurable benefits of digital processing of order confirmations in practice. Helmut Gaßman, head of purchasing at MAG, one of the world's leading suppliers of individual machine-tools and manufacturing systems, is one of them: "With go-live of the software for automated processing of our order confirmations, every one of my employees immediately felt the relief. We experience a significant time saving in the overall process."

With the digital order confirmation, price corrections become a no-brainer
There are price deviations time and again. Without digital support, such deviations need to be corrected in the SAP purchasing document with a great deal of effort. In the standard system, a good solution captures discounts as well as surcharges at header and item level in the order confirmation and automatically updates them in the purchasing document and the purchasing info record.
Practical example:
A supplier of machine-tools relies on the digital processing of incoming order confirmations. It is often the case that vendors show discounts or surcharges in the order confirmation that are not yet noted in the SAP purchasing document. The supplier of machine-tools takes advantage of the opportunity to correct such incidents automatically. The SAP add-on detects deviations and automatically overwrites the original SAP purchasing document. This is often used in practice and functions properly. Compliance and transparency are ensured at all times because all process steps are seamlessly logged. The purchaser is always up to date and can easily comprehend how the net prices are made up. Through the possibility of updating the purchasing info record directly, future purchasing documents will be created with the current conditions. As a result, there will be no deviations in future orders.

Simple attachment of e-mails to SAP processes
An additional simplification in everyday work is the option to simply attach e-mails to SAP processes. Regardless of whether order information, note on the vendor or any other messages: it comes in very handy if e-mails can be assigned to the appropriate SAP S/4HANA business object with two clicks. The e-mails can then be accessed quickly and easily in SAP and the processors benefit from maximum transparency.

Automatic processing of several order confirmations for one purchasing document
A purchasing document often results in several order confirmations, for example in the case of postponements. The processor would have to adjust the delivery date manually each time. Today's solutions determine if an order confirmation already exists. The control system that takes effect in the case of a follow-up order confirmation is usually set up on a customer-specific basis.

It starts out with the process and is followed by the software
The introduction of an automated, electronic processing of order confirmations is not only an IT project but rather an organizational project. The IT department helps with the installation of the system. However, organizational transformation is the task of the management that has to fully back such a project. Companies should always have their process flows analyzed before any introduction of new software products.

Conclusion: benefits of the digital order confirmation
Transparency, data quality and a high degree of automation are the cornerstones of digital transformation. Electronic processing of incoming order confirmations creates space for value-adding tasks. Both studies and practical experience prove that paperless and automated processes are de facto less expensive, faster and more transparent. The benefits of electronic processing of order confirmations are versatile and convincing.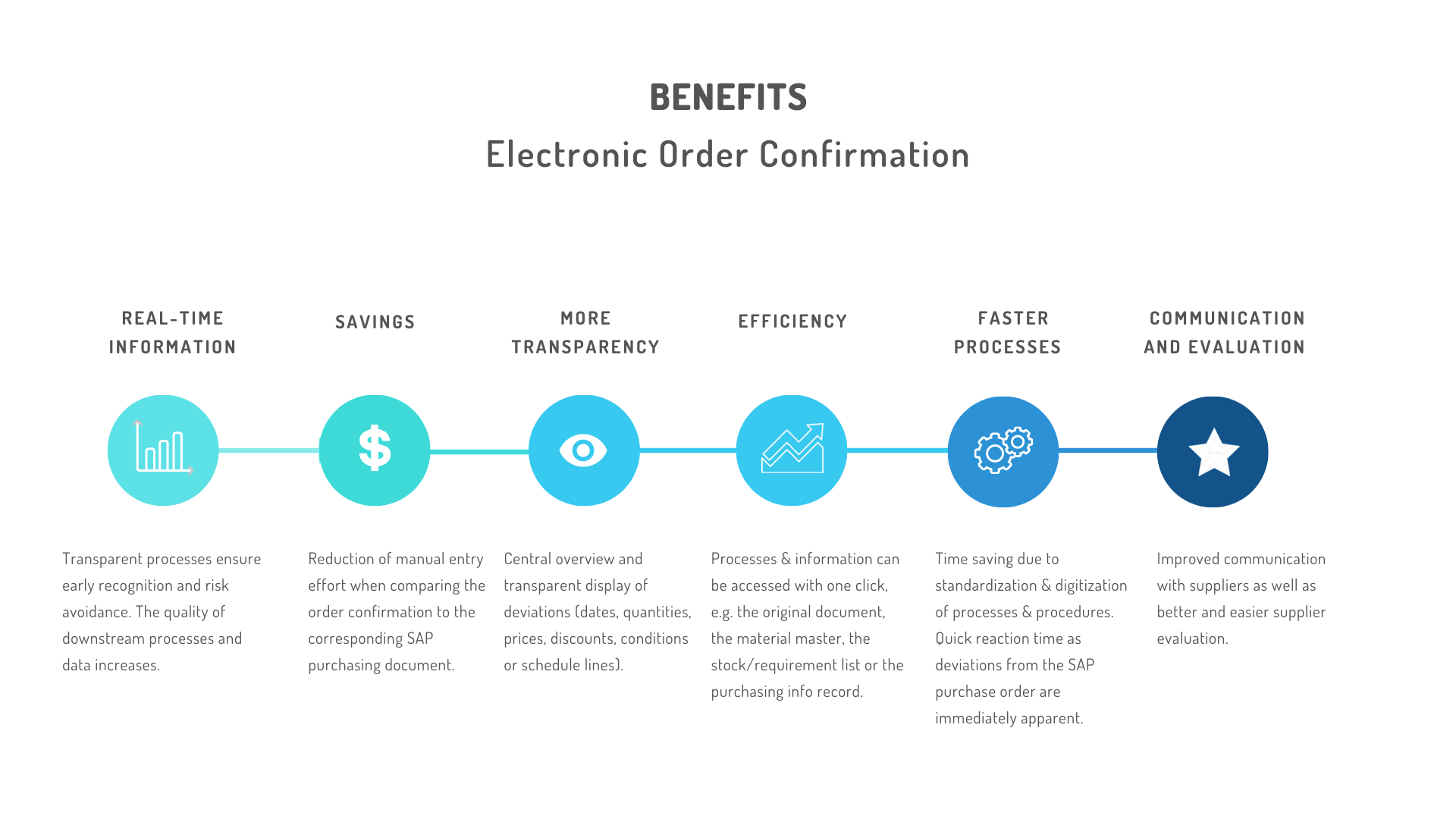 Free whitepaper: Better digitization of order confirmations
You can hardly wait to find a solution for the automated processing of incoming order confirmations in SAP? Then our whitepaper »Better Digitalization of Order Confirmations: Find the Right Software!« is just right for you – including a clever checklist and cost utility analysis for selecting a suitable system solution.
Free Whitepaper: Digitize Order Confirmations Better
You want to find the right solution for the digital automated processing of incoming order confirmations in SAP? Then our whitepaper "Better Digitalization of Order Confirmations" including a clever checklist and benefit analysis for selecting the right system solution is exactly right for you.
This Way to Whitepaper: Digitize Order Confirmations Better!