/fileadmin/user_upload/Blog-Rexin-auf-alternativen-Wegen.jpg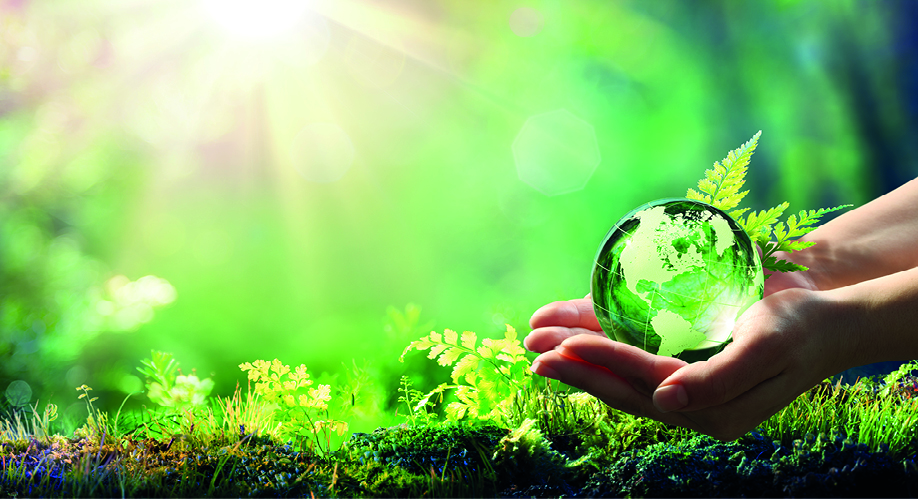 Corporate
&nbsp
In Quest of Climate-Neutral Pathways
In Quest of Climate-Neutral Pathways
A progress report by Torsten Rexin
Contents:
Climate neutrality signifies that the climate is neither affected negatively nor positively. Nevertheless, the production and use of goods consumes resources and energy, which in turn release greenhouse gas emissions (CO2). For this reason, CO2- neutrality is often used in conjunction with climate-neutrality.
In Germany, each and every one of us produces around 11.2 tons of CO2 a year (source: Statista 2021). With just under 83 million people, this adds up to around 938 million tons of CO2 that is emitted into the atmosphere - not including industry and economy. That's a lot and well above the average of 8.8 tons per private household in the EU.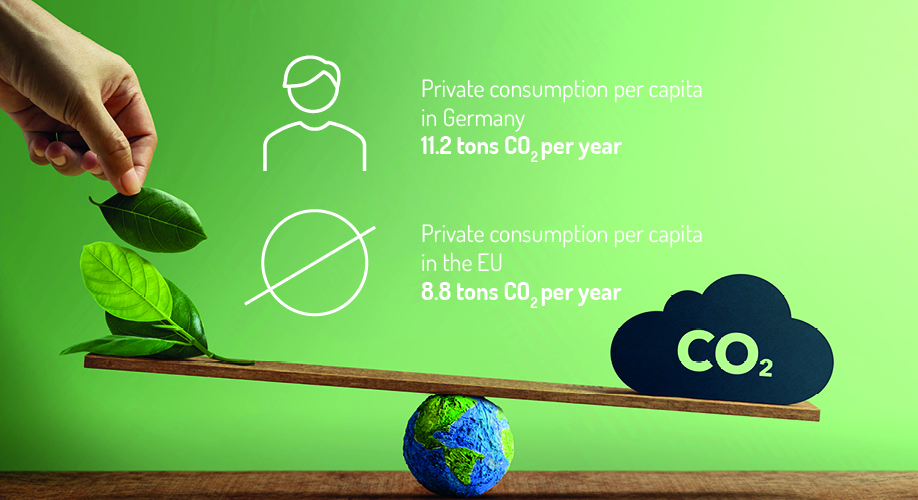 The fact is that we need to reduce emissions in order to limit global warming. Time is ticking away, as illustrated by the MCC Carbon Clock in Berlin: https://www.mcc-berlin.net/en/research/co2-budget.html
The conclusion is: the less we consume, the longer there will be something left of the CO2 budget.
AFI Solutions has also committed to the goal of being CO2-neutral by 2025. Whenever CO2 cannot be saved or avoided, the amount generated will be compensated by sustainable projects. Read more here. Companies can make a substantial difference in this respect, but it is also the commitment of each individual that counts.
Torsten Rexin, member of the management board and shareholder at AFI Solutions, made it his goal to set out for the Sustainability Award ceremony of NORDWEST Handel in a climate-friendly manner. Did he succeed? We asked him to share his experience with us. For more, read the following report.
My challenge: how to go on an almost climate-neutral business trip
When our customer NORDWEST Handel invited me to the Sustainability Award ceremony for their vendors, I had the idea of making this business trip as CO2-neutral as possible. It was clear from the start that if I wanted to travel as efficiently as possible, I was to combine three business appointments,

1. the visit to the Sustainability Award ceremony of our client NORDWEST Handel in Bremerhaven,
2. a visit to our partner Consult-SK in Minden
3. and finally, a meeting with our customer EDEKA Minden-Hannover to discuss the future strategy for the migration to SAP S/4HANA.
The Route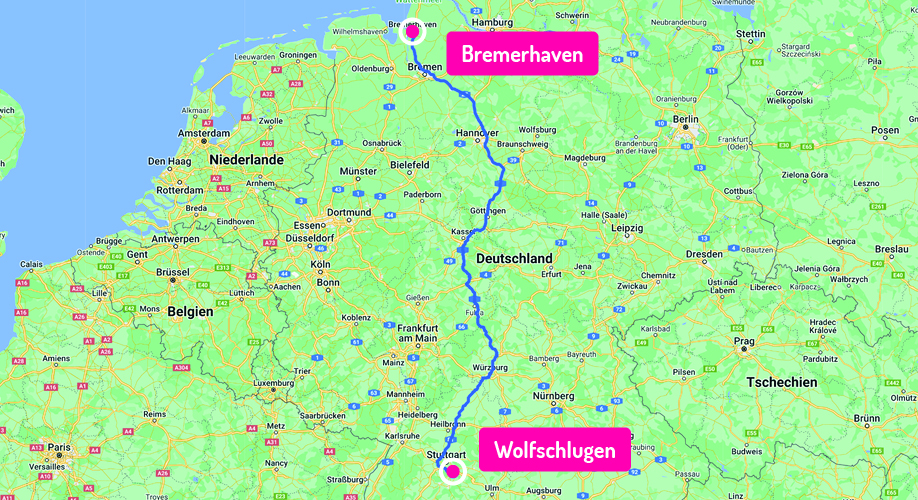 First stage: the way to Bremerhaven
Departure at 5:45 a.m. in Wolfschlugen. Unfortunately, there is only one bus connection to Stuttgart Central Station but at least it has been on a half-hour frequency for about nine months. The bus runs on diesel so the first route is not CO2-neutral but still scores better than driving by car alone.
Due to the construction site "Stuttgart 21", I need another quarter of an hour to walk to the platform where I can finally board the train. From now on, I'm traveling in a climate-friendly manner thanks to BahnCard 50 and Deutsche Bahn's promise of CO2-neutral travel.
Travel & work: efficient use of travel time
I get out my laptop, plug in my earphones and access our company network due to a secure connection. I can actually work through the entire train ride from Stuttgart to Bremen without a network failure - that's what makes train travel so much fun. Two years ago, I had a completely different experience. Conference calls in the open-plan car are a no-go of course, but I can still make clever use of the time for e-mails and other organizational to-dos.
The regional train from Bremen to Bremerhaven is a completely different story. The journey is characterized by dead zones in the wireless network, so I close my laptop and simply enjoy the scenery.
The award ceremony at the Klimahaus Bremerhaven
In Bremerhaven, I am joined by my coworker Paul from Hamburg, who has of course arrived in his electric company car. He can conveniently recharge the vehicle at the e-charging station in the Klimahaus Bremerhaven with electricity from wind energy. We then check into the ATLANTIC Hotel Sail City, which has also set out to become climate-neutral with a comprehensive sustainability strategy. Awarded as a Certified Green Hotel, the conference hotel focuses on regional and seasonal products. As part of its "Green on the Road" strategy, the ATLANTIC Hotel Sail City also pursues a sustainable approach - excellent service for customers and guests meets responsibility towards the environment.
In the afternoon, we head to the event at the Klimahaus Bremerhaven. We also have time to take a look at the exhibition where all the climate zones of the earth are presented, and their vulnerability clearly illustrated. Therefore, I strongly recommend having a look at it sometime.
The keynote speech about rainforests is followed by the award ceremony by the two managing directors of NORDWEST Handel.
Unfortunately, AFI Solutions is not among the first three finalists. Why is that? Are we not sustainable enough after all? I think we are. However, in our next application we will need to give more weight to our product portfolio, demonstrate why our digital solutions are climate-friendly and why their use promotes climate neutrality. This time, we had "only" covered our numerous initiatives around the company in terms of sustainability.
Second stage: from Bremerhaven to Minde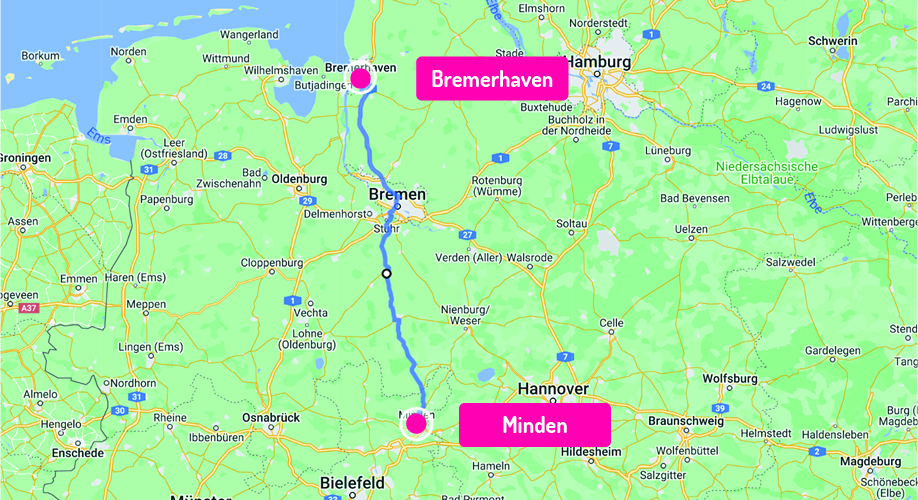 We take the regional train from Bremerhaven to Minden and it's really tough. People lose time on the track and the cell phone coverage is lousy.
Once I arrive in Minden, my next challenge is to find a way to cover the distance of about six kilometers from Minden station to AFI's partner Consult-SK, where a few briefings on current and new projects are on the agenda. But unfortunately, there is neither a pool bike nor an e-scooter for hire in sight. So, I have to call a cab - an old Daimler that still spits out clouds of soot meaning no more CO2 savings at this point.
I spent the night at the Victoria Hotel in the center of Minden. It's a small family hotel that currently has other things to worry about than climate neutrality. The hotel has just coped with the Corona crisis and is now trying to recover. Although the entire trip is planned in terms of sustainability, I am still happy to support a small family hotel with my overnight stay so that it can continue to exist.
Final appointment: a visit to AFI's customer EDEKA
Day 3: In the morning, I unfortunately have to take a cab again in order to visit EDEKA in the Minden Heath, where I plan to present our product portfolio, identify remaining process gaps, and discuss the customer's strategy for switching to SAP S/4HANA.
And after the meeting, which can finally take place in person again after the long Corona break, I take the same means of transport back to Minden station. I then make my way home on time with Deutsche Bahn, powered by 100 percent green electricity.

Conclusions:
At the moment, it is still impossible to make business travel completely CO2-neutral. However, trying to cause as few CO2 emissions as possible is certainly feasible and not inevitably costly (in terms of time). Replacing the car with public transport or the domestic flight with the train is the first step toward CO2 neutrality.
I also think it's fun to step up to the plate and take a close look at how we can use sustainable mobility when we travel. Giving up a bit of comfort in exchange for traveling with an "ecological" conscience leaves me with a good feeling of having done something for the future of our planet.
My new challenges in the area of ESG will soon be available on this channel.