/fileadmin/Blog/2021/Blog-digital-incoming-invoices-in-SAP-You-should-consider-these-four-points.jpg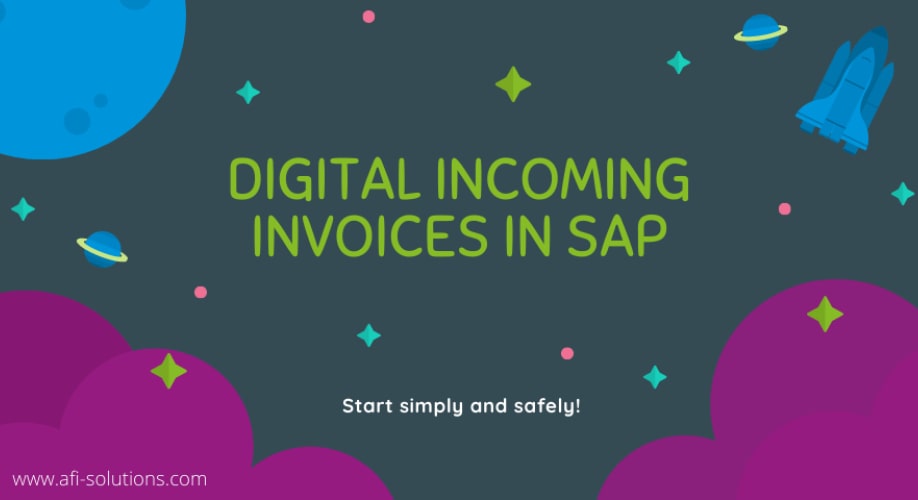 Incoming Invoices
&nbsp
Digital Incoming Invoices in SAP: You Should Know That!
Are You Interested in Digital Incoming Invoices in SAP? You Should Consider These 4 Points
Table of contents:
1. What should companies look for when selecting a supplier for digital incoming invoices in SAP?
Nowadays, there are many solutions or solution providers on the market that can support SAP users in the invoicing process. But a solution must also fit the company and its processes. Choosing the right provider or the right solution for incoming invoice processing is the first step. There are various factors to be considered in the selection process such as SAP and process expertise, project experience, references, or the size of the solution providers. Points of interest include a sufficient number of consultants and experts to be able to conduct the implementation project quickly and efficiently as well as local and personal proximity to the provider.

2. How can the digital invoice receipt solution be integrated into SAP?
Companies, project managers and software providers must clarify in advance how the solution will be integrated into the existing system landscape. Should the solution be operated within or outside the SAP system, or should a full-service package be acquired? The question of on-premises, cloud services or business process outsourcing is not an easy one to answer. It must always be decided on a case-by-case basis which option is better suited to the company's particular situation.
Learn the Most Important Facts about E-Invoicing and Download the E-Book!
3. Why resource planning plus appropriate change management are essential for digital incoming invoice projects!
Each and every company has specific requirements for a digital invoice solution. But the solutions themselves also require certain preparatory measures on the part of those involved in the project or thorough resource planning plus appropriate change management.
The following aspects must be addressed together in order to be able to successfully carry out an implementation project:
Avoidance of interfaces or constant data transfer
Data timeliness and consistency
User acceptance due to different user interfaces
Integration of existing archive solution (investment protection)
Functional scope, if necessary depending on industry, number of documents and company structure
Invoice formats (paper/e-mail) as standard
Other formats, such as XRechnung, ZUGFeRD, FATTURA PA, EDI, IDoc or an integration of SAP ARIBA should at least be available in order to be able to react to future requirements
Automatic readout of invoices via OCR (Optical Character Recognition) with room for improvement via training (use of Robot Process Automation/Artificial Intelligence)
Automated checking for relevant invoice components (e.g. Article 14 of the German Value Added Tax Act (UstG))
Approval scenarios within and outside the SAP system to include all necessary approvers (real-time processing), flexible approval for desktop, laptop, smartphone or tablet
Automation options, from direct assignment of transactions to a processor to an automatic workflow start to complete posting based on specific criteria (ideally via customizing settings)
International availability: languages of the software interface, language recognition of the OCR and consideration of legal requirements of the respective country
Variations or services (business process outsourcing, on-premises, cloud services, proactive monitoring)

This list is not a comprehensive one. Rather, the aspects listed show how important good and honest communication is for fast and efficient project progress right from the very start.

4. What is important in the project plan for a successful digital invoice receipt in SAP?
Development of a coherent understanding of the project
A project is a target-oriented, one-time undertaking that consists of coordinated, controlled activities with a start and an end date. It is carried out in order to achieve an optimal objective, taking into account specifications regarding time, resources, and quality: these three variables are interdependent. Finding the right mix or common approach is crucial for successful communication between all participants and for project implementation.

Definition of the project mission and the resulting project objectives
An attempt must also be made to define the project objectives as precisely as possible and, if necessary, to clearly distinguish them from areas that are not targeted in the project. When defining objectives, it is important to ensure that they are specified quantitatively and thus as concretely and measurably as possible.

Early definition of a project organization
It should be determined at an early stage of project planning who must be involved and integrated in the project in order to be able to implement it at all. Furthermore, it is necessary to clarify those persons who belong to an extended group and who may be asked to join the project team at a later point in time or to be involved in a subproject.

Documentation of current processes
Those involved in the project on the part of the company should carefully examine, analyze, and document the current internal company process flows in advance. This not only creates a cross-departmental understanding of the current processes, but also helps to define future target processes in detail during the subsequent project progress.

Digital Wins!
Find out the most important facts about digital incoming invoice processing in SAP in our e-book »The Benefits of E-Invoicing in SAP«