/fileadmin/Blog/2021/Blog-Interview-Andreas-Rapp-Incoming-Invoices.jpg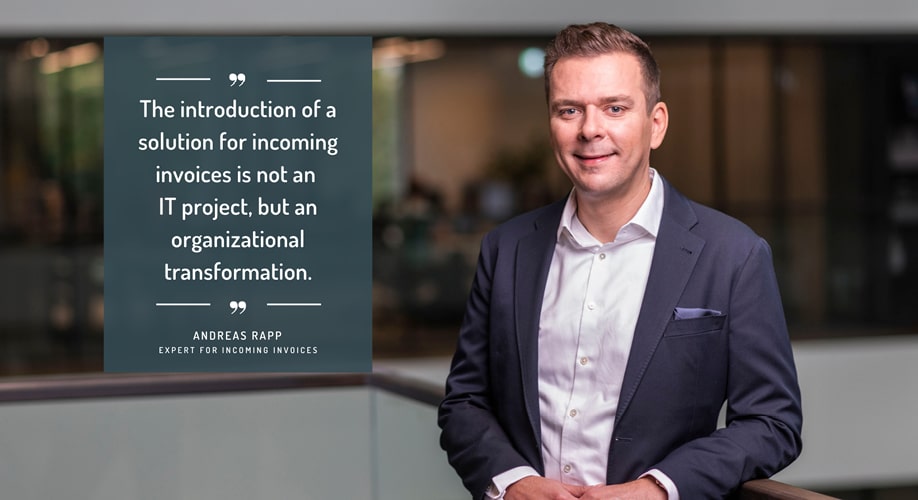 Incoming Invoices
&nbsp
How the Calculation with E-Invoicing Projects Works Out
How the Calculation with E-Invoicing Projects Works Out
Table of contents:
Two factors that should not be underestimated in the selection and subsequent project implementation are the consultant and the project team. Andreas Rapp, expert for incoming invoices at AFI Solutions, has been working in this segment for more than 15 years and has successfully supported over 150 projects.
In a short interview, he describes which issues are important for a selection procedure or for the decision-making process from his perspective.

At what point does it make sense to implement a solution?
Andreas Rapp: In principle, the annual document volume is a decisive key figure. This figure is around 10,000 invoices per year. It can also be lower for each company if certain constellations are in place: for example, if the company has a decentralized structure, if it has many employees working in the field, or if a necessary level of process security has to be provided. Many other reasons can be listed here. The payment method can also be a factor, in other words, whether billing is per invoice or per use of the tool. With a pay-per-use model, the purchase of a solution can be profitable even with fewer documents.

Speaking of general project understanding, how do you see this?
The introduction of a solution for incoming invoices is not an IT project, but an organizational transformation. New processes are integrated and different departments are involved. This requires change management at an early stage which should be supported by the entire company and taken into account when selecting a provider. Those responsible for the project in the company should place particular emphasis on the expertise and consulting skills of their contact person.

Who is the ideal project partner or solution provider?
In exaggerated terms, the day of the decision on the solution marks the beginning of a long-term relationship. Therefore, many aspects need to be considered beforehand in order to ensure that the project runs as smoothly as possible. The following questions should be addressed when selecting a provider:
Is the provider the right fit for our company in terms of size and necessary project performance?
What about the provider's references? It should be verified whether there are cases of application from a related industry, with a comparable complexity, in a similar scope or with different countries to be considered.
Does the provider also offer additional solutions, for example for the entire purchase-to-pay process, which can be seamlessly integrated and thus map the entire process in a future-proof manner, also with regard to SAP S/4HANA?
How flexible is the provider when it comes to the operating model? On-premises, business process outsourcing or cloud services?

What aspects should be taken into account in terms of the solution's range of functions?
Along with the typical requirements for solution and vendor selection, certain functions are also important in a digital solution for incoming invoices from my point of view. Comprehensive search functions, for example, enable appropriate transparency in the incoming invoice ledger. This should include various search variants, such as determining terms or values via the status or document condition or a universal search. Individual setting options for each user would also be beneficial. These search functions may not be the focus of attention at the beginning of a project since the volume of invoices is usually still relatively manageable.
However, every user must assume that these functions will be absolutely necessary in the future in order to be able to find a specific or desired transaction quickly and easily in the incoming invoice ledger among thousands of invoices.

What other important aspects are there to consider in this context?
A second essential factor is the complete logging of all processing activities. The logs then serve as evidence both for the audit and for internal control. And thirdly, it should be possible to map all release scenarios flexibly, as these can vary greatly from company to company and can be complex. They may also need to be adjusted as time goes by. Features such as the mapping of multilevel release scenarios, parallel or sequential release scenarios, an automatic agent finder, release by SAP users and non-SAP users etc. are necessary for this.

Finally, attention must generally be paid to the flexibility of the solution and its components, whether it can be easily adjusted to the respective company requirements, industry, and market conditions. Ideally, this should work without programming and can be mapped via the customizing settings. Otherwise, it can be a considerable cost driver in some projects.
Thank you very much for the interview, Andreas Rapp.
Digital Wins!
Find out the most important facts about digital incoming invoice processing in SAP in our e-book »The Benefits of E-Invoicing in SAP«