/fileadmin/News/2018/News-BME-Follow-up-Report-2018_EN.jpg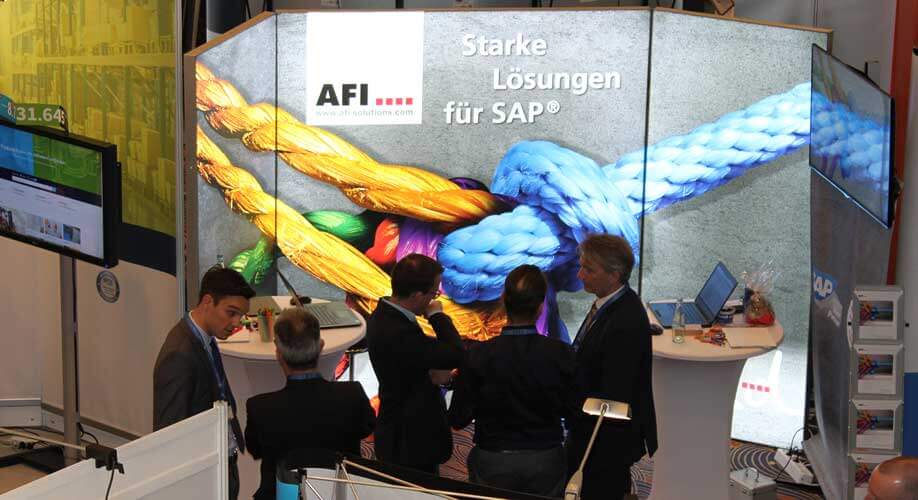 AFI Solutions
Days Like These: AFI Leaves a Lasting Impression at the 9th BME eLOESUNGSTAGE 2018 in Duesseldorf
Days Like These: AFI Leaves a Lasting Impression at the 9th BME eLOESUNGSTAGE 2018 in Duesseldorf
As it is nicely put by the German punk band "Die toten Hosen": "On days like these, you wish it would never end…". This song is about the collective happiness arising when celebrating with music.
And of course, something like this also applies to technology that inspires.

At least, that is how AFI Solutions felt at the BME eLOESUNGSTAGE, which took place from 13 to 14 March 2018 in Duesseldorf. The challenges of digitization are turning more and more into possibilities and this development could be noticed on both days.

The BME eLOESUNGSTAGE congress is one of the biggest events for eProcurement and eSourcing in the German-speaking world.
Strong Solutions for eProcurement and ePurchase
There was a sincere desire for knowledge at AFI's booth and we were able to draw the attention of many interested parties to optimized SAP process models in purchasing, logistics and supply chain management.
We are already looking forward to many new, digital "happy" end-to-end processes.
When Cows Automatically Report Calving…
…we are in the middle of Hannes Ametsreiter's keynote speech. The Head of Vodafone Germany called for more speed in the digital transformation. Because those who do not push the digital revolution forward will miss it. This applies to companies as well as entire countries.
The Added Value will Ultimately Gear Up!
With AFI, thyssenkrupp AG demonstrably generates time and costs savings in the electronic processing of incoming order confirmations in SAP Ariba.
Muersel Inan, Process Manager Supply Chain & Procurement at thyssenkrupp AG, convincingly summed up the added value of the AFI solution.
Save the Date: 10th BME eLOESUNGSTAGE in Duesseldorf
As organizer of the event, the Association for Supply Chain Management, Procurement and Logistics (BME) can look back on a participation record of both trade visitors and exhibitors at the 9th BME eLOESUNGSTAGE 2018. The 10th BME eLOESUNGSTAGE will take place from 12 to 13 March 2019 in Duesseldorf.
AFI Solutions will again be present with an own booth in 2019.