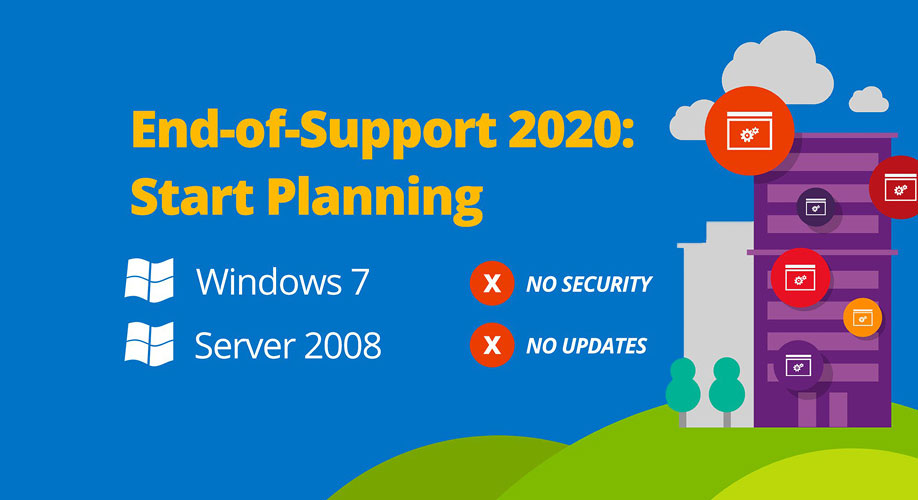 Microsoft Terminates Support for Windows Server 2008 – Update Now!
Some Microsoft products will soon disappear from the scene because Microsoft will end the support for Windows Servers 2008 and 2008 R2 as of 14 January 2020. SQL Server 2008/2008 R2 as well as Windows 7 are also affected.
Below is an overview:
| | |
| --- | --- |
| Microsoft Product | End of extended Support |
| SQL Server 2008/2008 R2 | 9 July 2019 |
| Windows Server 2008/2008 R2 | 14 January 2020 |
| Windows 7 | 14 January 2020 |

With the end of extended support, Microsoft will no longer provide security updates for the above-mentioned products. It is therefore advisable to update your own IT infrastructure in order to avoid taking unnecessary risks. The Microsoft Windows Server 2008 has already been followed by several new generations.
An update of the IT infrastructure is also an investment in competitiveness. Microsoft does not let its old products run out for nothing: they no longer meet the safety requirements and customer expectations of the new workplace. On the Microsoft website you can find a migration guide which is available free of charge.

Click here for the migration guide


Updating Might Also Affect Your AFI Solutions
Plan the conversion to a current operating system in due time. Please bear in mind that the migration to a current Windows system also entails an update of the AFI Solutions products. There are several attractive options and we are convinced to find the best solution for you. The AFI Solutions customer center will be on hand with help and advice.