/fileadmin/News/2018/News-DSAG-Check-2018_EN.jpg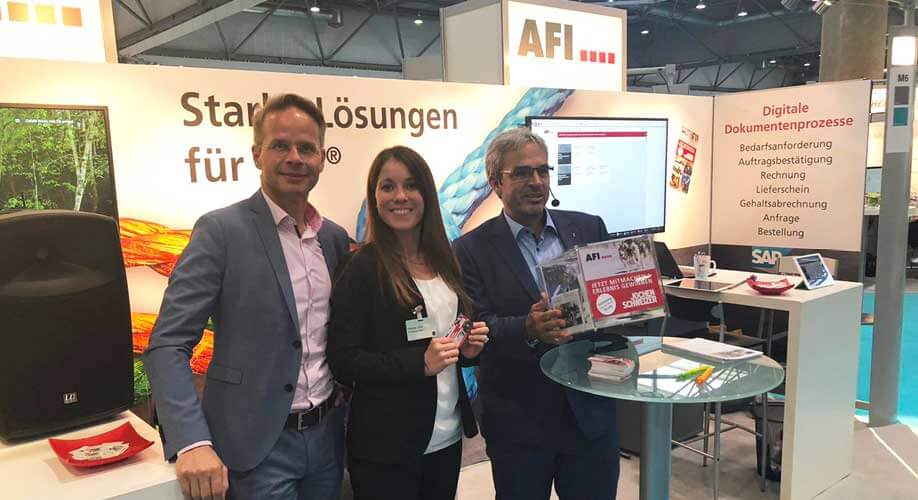 AFI Solutions
SAP Gets Off to a Flying Start: AFI Solutions at #dsagjk18
SAP Gets Off to a Flying Start: AFI Solutions at #dsagjk18
The DSAG Annual Conference from 16 to 18 October 2018 in the Congress Center Leipzig was fully booked with 5,077 participants! If you weren't there, you missed out. Apart from drummers, futurologists and brilliant football table performances, the event primarily had to offer substantial information that made every SAP heart leap for joy.
SAP shakes a leg: it is hardly surprising that S/4HANA still affects all organizations. If it is about the switch to a new SAP product generation or your own digital strategy - time is running out fast and there's no getting around it.
AFI Solutions are ready for SAP Next Generation
We are already thinking about tomorrow today and for this reason the AFI solutions are SAP S/4HANA-ready and successfully in action at many of our existing customers by now. More and more will soon follow suit which was also confirmed by the visitor surveys at the DSAG Annual Conference.
Therefore, we were not surprised at the great interest in digital issues at our own booth: organizations are more open than ever before to digitizing and automating their processes as future-proof as possible and getting the most out of their SAP system.
The motto of the 19th Annual Conference »Business without Limits – the Architecture of the Future« pulsed on all three days and it was downright perceptible that the participants of the DSAG are not only an association but an economic power that can and will set things in motion.
S/4HANA, Digital Transformation, Future
Our solutions are ready for »The Day after tomorrow«, to quote the highly inspiring final keynote of the futurologist Peter Hinssen.
For AFI Solutions, the event paid off at all levels! We are already looking forward to many new and exciting projects whose future architecture we can help shape and support.
With this in mind, we will meet again on the #dsagjk19 from 17 to 19 September 2019 in Nuremberg.