/fileadmin/News/2018/News-Time4Solutions-Stuttgart-2018_EN.jpg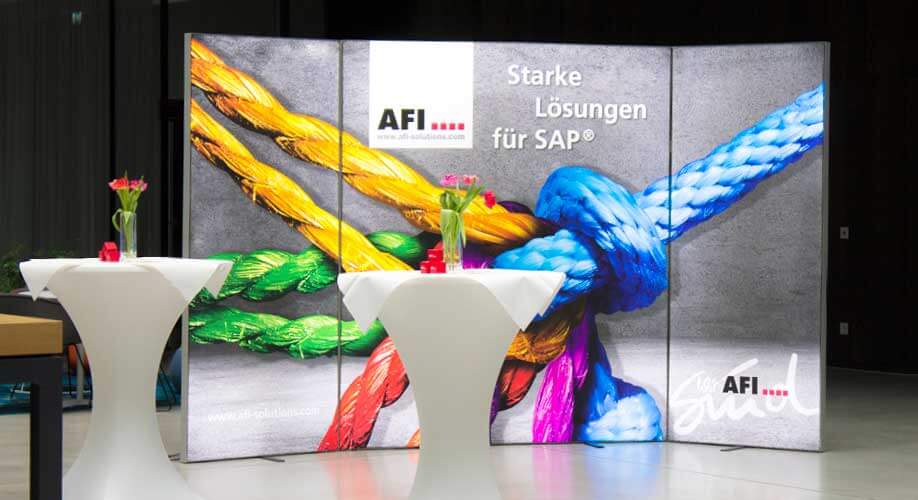 AFI Solutions
Successful Kick-Off of the New AFI Event Series Time4Solutions in Stuttgart
Successful Kick-Off of the New AFI Event Series Time4Solutions in Stuttgart
Time4Finance + Time4Procurement make things clearer in SAP
Whether electronic purchase requisitions, invoices coming in or going out digitally, automated processing of order confirmations or the convenient dispatch of orders & order folders out of SAP: on 15 and 16 March 2018, the new event series Time4Finance and Time4Procurement in Stuttgart was all about making daily work in SAP significantly easier.
AFI Solutions Make SAP Even More Attractive
The visitors experienced the solutions for Finance and Procurement by reference to familiar scenarios. Many questions were posed and the advantages of "paperless working" in daily processes were within reach.

"Well-conceived solution with many useful options which other manufacturers do not offer in this form. I would love to get rid of paper immediately and introduce the AFI solution", that is how one potential buyer felt after visiting Time4Solutions.

If the insight into his own SAP solutions ensures that the users want to leave the familiar paper behind to make processes simpler, faster and more flexible, the manufacturer has done everything right. As a leading SAP refiner, one has to be a process and document expert as well.

Simplify your work in SAP and take a chance! The time is now.
Time4Solutions: Your Way to More Transparency in SAP
If you would like to know how easy it is to make your daily work in SAP more transparent, faster and safer, visit the AFI event series Time4Solutions on Finance and Procurement. Upcoming events will take place in Koeln, Berlin, Muenchen und Hamburg.
You Would Like to Get to Know Our Solutions Right Away?
No problem at all – it would be our pleasure to provide you with an overview of our solutions in a brief Time4Solutions webinar. We are eager to inspire you!