/fileadmin/News/2021/News-fiori-price-variances-confirmation-EN.jpg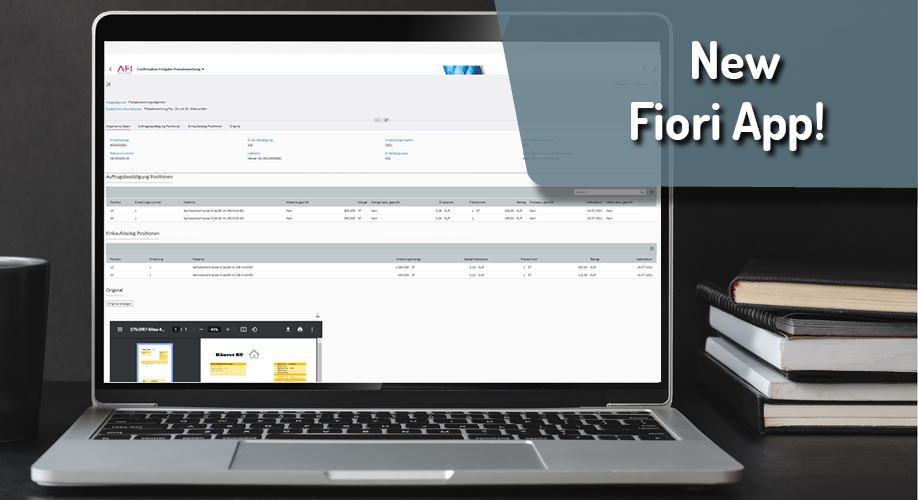 AFI Solutions
Direct Resolving of Price Variance Issues with the New SAP Fiori App for Incoming Order Confirmations
Direct Resolving of Price Variance Issues with the New SAP Fiori App for Incoming Order Confirmations
SAP Fiori apps make working life with SAP S/4HANA easier. They undertake selected functions within the overall system and provide for more flexible use. Just like the new Fiori price variance app of the AFI Confirmation solution. It now connects requesters even better with the purchasing department: if there are price variances in an order confirmation, the purchasing team starts an approval workflow directly from the AFI solution. The Fiori app then sends the approval workflow to the requester, for example. He or she opens the app and can approve or reject the new price.

The good thing about this is that those who check and approve internally do not need an SAP user interface, because the app can be opened via the Fiori Launchpad and used both on the desktop and on mobile devices.

This way, price variances can be resolved quickly and conveniently. In addition to that, the entire process is documented and archived in the system.

"When developing new Fiori apps, our focus is on the user experience which we aim to improve. After all, the logical conclusion is always to optimize the overall process," says Stefan Fellner, Product Manager AFI Solutions, explaining the mission of Fiori app development at AFI Solutions.

Fiori apps: an SAP world full of possibilities
Fiori apps make working within the SAP S/4HANA world more flexible and integrated. The apps usually take on a targeted task and provide only the data needed to complete it. At first glance, this seems trivial but it has a very positive effect on daily work.

In the case of price variances, approval is much faster and the process can be transparently tracked later on. Another significant benefit is that users can be integrated into SAP processes with Fiori apps without media disruptions.

In short: with Fiori apps, all employees work with SAP faster, more conveniently and more transparently.