Solution Provider for SAP and Document Processes
AFI Solutions is a leading solution provider for the digitization as well as optimization of paperless, digital document processes around SAP. The full service starts with consulting and continues with conception and implementation up to product training and a hotline service, if desired 24/7. AFI's "Made in Germany" solutions are regularly certified by SAP. They are available in more than 20 languages and are used in more than 100 countries worldwide. AFI serves more than 800 satisfied customers with more than 200,000 users all over the world - from medium-sized companies to international corporations.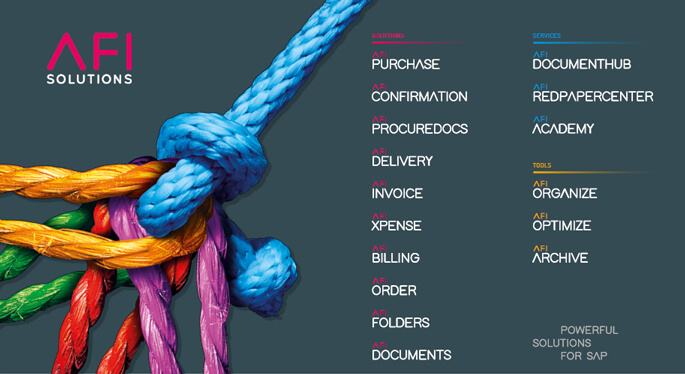 References
AFI Solutions combines state-of-the-art SAP technology with professional innovation. The result: excellent, SAP-integrated software solutions for processing numerous document types
What You Can Look Forward To
Family-friendly Corporate Culture
Subsidy for local public Transport
Do you have any more questions?
We have the answers.
You need information about our company or have questions about our solutions for SAP. We are happy to help you, please contact us.
AFI Solutions GmbH
+49 711 26892 - 0


Contact me Request Call